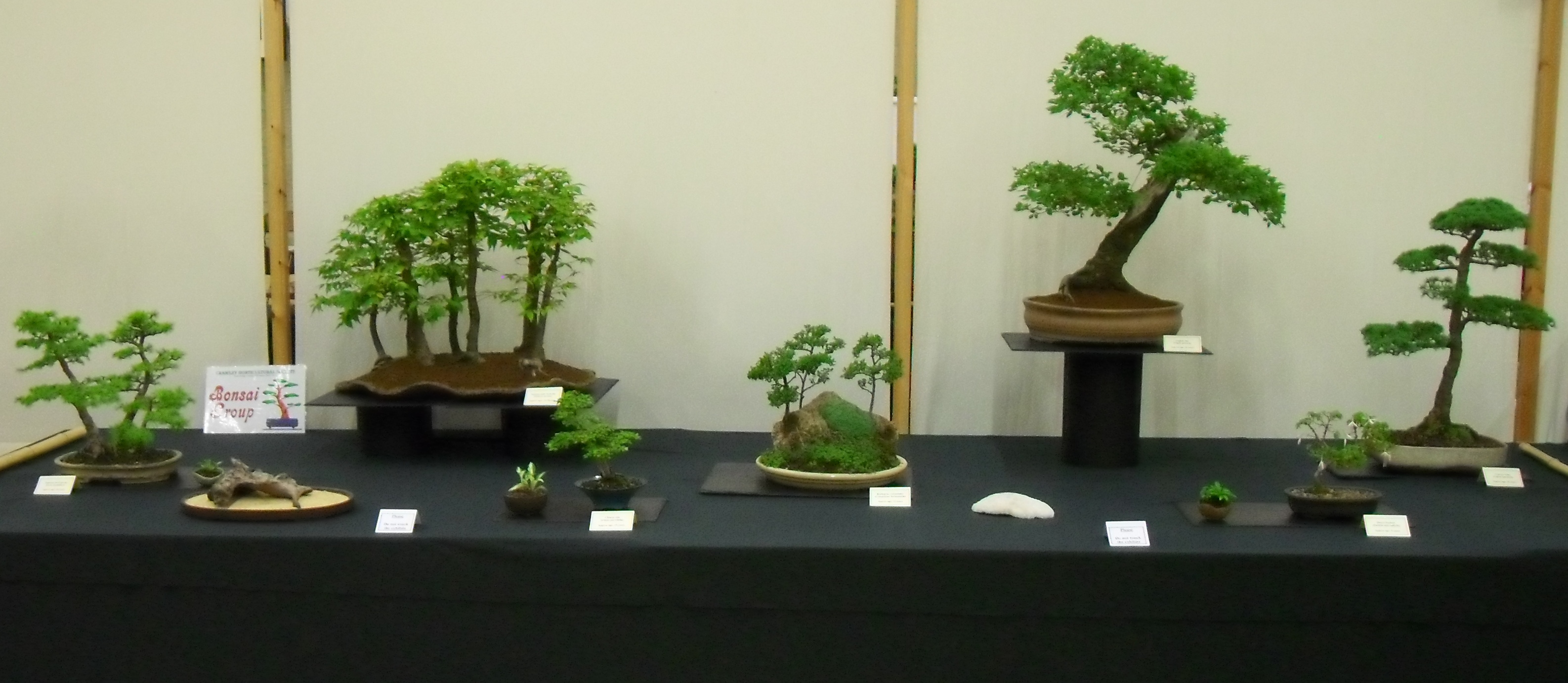 The Group meetings start at 8.00 p.m. on the THIRD Thursday of every month unless otherwise stated, at the CH Society Hall.

New members are always welcome.

We are looking for other groups with an interest in Bonsai to exchange ideas, knowledge, experiences & to enter into competition.
BONSAI WORLD

In 2015 Crawley had the privilege of hosting Bonsai World in K2. The show was open to all societies, individuals and traders coming from all over Europe, the furthest having travelled from Valencia in Spain.

When the Sussex Bonsai Society put on an exhibition you can be sure of a spectacular show. Their members have won many gold awards at Chelsea.
And what a show! Magnificent trees, perfect miniatures, yet often up to 100 years old. Healthy specimens growing happily in their specially designed pots, carefully nurtured by enthusiastic owners and exquisitely displayed.
The show had many other attractions including a Japanese tea ceremony, martial arts, brush painting, embroidery and Chinese calligraphy. In addition there were workshops and practical demonstrations for pruning
and shaping bonsai trees.
Crawley Horticultural Society Bonsai group were honoured to take part.

http://crawleyhorticulturalsociety.org.uk/bonsai-group.php


Link to the Sussex Bonsai Group

Bonsai Group contact: Tony McKenzie. Tel: 01293 773149 Email: [email protected]
LOCATION
The CH Society Hall is situated in Ifield Avenue, West Green, Crawley, RH11 7AJ adjacent to the Old Ambulance Station opposite Ewhurst Road. Access and parking at the West Green Park car park. METROBUS routes 2 & 3 & 21 stop within easy reach of the Hall.
The shop/hall telephone number is 07546970594 (During Shop hours only)